I'm of the opinion that Southeastern New Mexico in general is not being represented well by lawmakers in Santa Fe. Our interests, views, needs and culture simply aren't being respected at the state level. This has been an ongoing complaint among residents for years, so I'm proposing that it's time for us to kiss Santa Fe good-bye.
While I haven't done anything with the domain yet, I want you to know that I now own the domain RoswellTexas.com. I'm going to be the guy that stands up and says it's time to seriously begin discussing the topic of secession from this state - along with any other counties that feel that same way. Let's start talking to Texas about the benefits to them of annexing us.
This is not an original idea of mine, but it's definitely been floating in the air for a while waiting for the right time to land. Now is the time. This is the city. Now, I didn't design the logo in the header, and you may already know that state senator Cliff Pirtle last year floated an amendment to pave the way for counties to secede.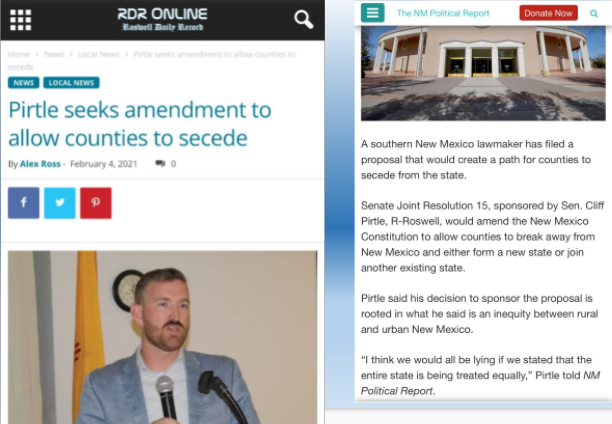 He too cites that there's a serious disconnect between politicians in Santa Fe and those of us living out here. He said there was, "inequity between rural and urban New Mexico." To me that inequity is summed up this way: It's our ranchers, our dairymen, and our oil and gas industry that's generating the bulk of the state's revenue, yet they're taking both our resources and tax dollars from us and then refusing to represent our wishes or values.
In America, we really have a sore spot when it comes to taxation without representation. Deep down, we all know there's a problem. In my opinion, there's a better and more American response to this situation than to quietly submit to their illegal mandates and unjust laws. While they redraw the voting lines to exclude us, and then make plans to take even more in taxes, I think we should begin to legally resist.